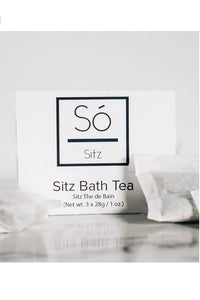 So Luxury Sitz Bath Tea
So Luxury
Regular price $15.00 Sale
We have selected the most fragrant and beneficial herbs for our Sitz Bath Tea blend.  Sea salt, lavender, calendula, raspberry leaf, comfrey, chamomile, yarrow and rosemary create a beautiful floral aroma for anyone looking to have a relaxing soak, not just for new mamas.
Each box comes with 3 individual tea bags.
Directions: Steep one bag in 8 cups hot boiled water for 20 minutes (just like your favourite cuppa tea). Add the brewed Sitz Bath Tea to bath water and soak for 20 minutes or add to a peri bottle to be used directly.
Ingredients: Maris Sal (Sea Salt), Lavandula Officinalis (Lavender) Buds, Calendula Officinalis (Calendula), Rubus Idaeus (Raspberry Leaf), Symphytum Officinale (Comfrey), Matricaria Chamomilla (Chamomile), Achillia Millefolium (Yarrow) and Rosmarinus Officinalis (Rosemary)
3x 28g/1oz bags
Item Number:
520-6
Item ID:
40769
Category:
Gift for Baby and Kids